ARCHIVES
Sunday Miscellany
Sunday, 30 January 2011 / 23:55
January was quite a busy month, last week especially. Now that a crucial deadline is out of the way, though, I can concentrate on other things. I've been a bit stressed out and under the weather, so I'm trying to get my normal energy levels back. Walking a lot is part of my usual routine, and I'm keeping up with it even though I don't always feel like it. Yesterday I went on what turned out to be a 4-mile trek round some charity shops, and that may have been a little bit much, but it felt good to get some exercise and fresh air.
Shopping-wise, it wasn't the most successful trip. I feel bad criticising charity shops - they're raising money for good causes, and many of the staff are unpaid volunteers - but it always frustrates me a little when none of the stock is organised by size. If a rack of clothing is five or six feet long and jam-packed, I may not bother hunting through it for the one or two things that might fit me. (I know,
I
can hardly complain about things not being organised...)
But anyway, I went back through H&M on the way home, and bought MORE BOWS.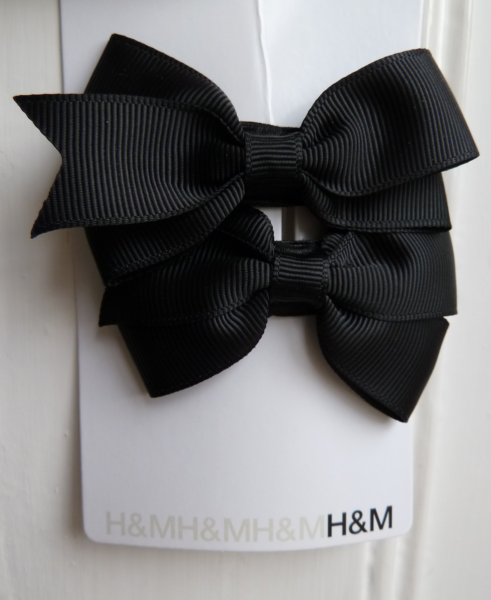 My wardrobe organisation efforts continue. Last night I made a go at sorting through my jewellery and, more dauntingly, my fabric stash drawer. As I've just acquired a number of old clothes to repurpose for sewing, I badly need to make room in there. Happily, my stack of things to donate/sell/recycle is slowly growing.
Labels: charity shops, hair accessories, hm