ARCHIVES
Some Recent Online Purchases
Wednesday, 23 February 2011 / 14:33
I went on a bit of a shopping spree (by my standards) over the last couple of days, but I think I did a reasonable job of focusing on things I had practical needs for - I resisted hair accessories, for once. :) Shopping in town has been more frustrating than enjoyable lately - insert predictable complaints about crowds, noise, etc. here - but I am usually too stingy to pay shipping costs for anything I could buy in person, so when a few free shipping opportunities cropped up, I jumped at the chance.
John Lewis
: They weren't offering free shipping per se, but I love their instore collection service - free, fast and very convenient if you live near enough. JL is a major department store chain in the UK, and they sell own-brand clothing and accessories as well as various mid- to high-end brands. Most of it is out of my price range, though, so I've picked up the habit of looking in the kids' department for more affordable items.
Girls' Patent Ballerina Pumps
in blue, £12.00
Flats for everyday wear were at the top of my "need" list after I realised about two-thirds of my shoes were falling apart. I could get £12 shoes at New Look, H&M, etc. but I generally expect John Lewis quality to be a bit better, so I hope that proves true. I bought my usual size (adult UK 5) and they do fit, I think - they're tight, but most of my shoes are at first. I used to buy size 5.5 and 6 shoes that felt fine in the shop, and after a few months of wear I'd be slipping out of them.
Clearly the most important thing, though, is that they have bows. :) For years now I've bought mostly Mary Janes and shoes with bows. I was about to say "I have a five-year-old's taste in shoes", but that brought to mind those unnerving wheeled trainers that children always seem to wear at airports. Seriously, it's like every time I go to an airport there's at least one child zooming around on those.
Girls' Plain Leggings
in pale pink, £1.60 (originally £7.00)
Leggings fall into the category of fun accessories for me and therefore are firmly on my "want" list, but I thought this pair for £1.60 would be a steal. Unfortunately, they weren't quite what I expected.
The "pale pink" colour as shown on the website and in real life...
They're certainly pale pink, but the colour was drastically misrepresented on the website. All the tag information was correct, so I'm assuming it's a site error. I'm returning these because they weren't what I was looking for.
Next,
New Look
. I am not really a fan of this shop - my local branch isn't the best and I think a lot of their clothes are overpriced for the quality - but I still venture in now and then because their shoes and accessories are worth a look. They were offering free shipping and I found a code for 20% off, so I ordered online for the first time.
Buckle Strap Satchel
in tan, £13.59 (£16.99 before discount)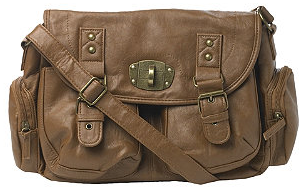 I'm probably going to shock some people with my apathy towards handbags, but I have only one (a
Cath Kidston
canvas tote) and the straps are shredded from wear, so I genuinely needed a new everyday bag. I am too disorganised to transfer stuff back and forth between different bags, so I needed a style that would be as versatile as possible. I did some searching, and this satchel looked like the best option in my preferred price range. I'm not in love with the plasticky material, but I like the style, it's a good size for me, and unlike my canvas bag it actually has a closure.
Bow Cross Body Bag
in "pigeon", £6.39 (£7.99 before discount)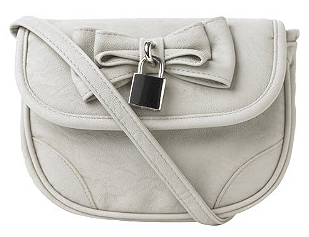 I don't have any evening-appropriate bags, and whilst a black one would probably have been more versatile, this one works: it has a strap and closure, it's big enough for the essentials, and it's
adorable
.
Lastly,
Topshop
. I have been put off by their pricing lately (£15 for a basic tee?) and I know it's even worse outside the UK, but after trying on far too many H&M tank tops without success I was ready to give in and spend a little more. Like New Look, they were offering free standard shipping.
Basic Scoop Neck Vest in Navy
and
Sugar Pink
, 2 for £10 (£6 individually)
I like the colours, and they should be good for layering (see all my posts/tweets where I whine about being cold all the time). I almost bought
these socks
out of
a desire to pair them with red and navy
, but resisted, for now. I placed the Topshop and New Look orders late last night so I won't receive them for a few days, but I've seen all the items instore so there shouldn't be any surprises.
Anyway, I've been trying to get my head down and focus on getting my portfolio ready for assessment. Just like the week before my college applications were due, my body has decided it's a
great
time to come down with a cold, but I'm fine enough to work so it's not really a problem. I am, though, using it as an excuse to pair my tunic-length hoodie with leggings layered over tights (yes, I'm normally in the "leggings are not substitute trousers!" camp). Whilst I wouldn't go out of the house in this outfit, it's incredibly comfortable. :P
Labels: john lewis, new look, reviews, shoes, topshop
aki!
said on
23 February 2011 at 17:32
I'm not a bag person, but I sill have a lot of handbags, tote bags, small purses, etc that I've collected over the years. I do have to make sure that my next bag purchase is versatile. Thanks for reminding me before I made another mistake!
Elle
said on
23 February 2011 at 18:38
I shop in the kids department too! :) but I try to stay away these days because there's something inevitably "off" about the design. :(

and we wear the same size (UK5/US7)...I think maybe in an alternate universe I was supposed to be as tall as you are. :)

Love the flats you got and they'll surely go with everything. :)
En Bouton
said on
24 February 2011 at 13:04
@aki! - You're welcome! :)

@Elle - Glad you like the shoes! I agree, styling in the kids' department can definitely be hit or miss, and on top of that there's the issue of fit... some clothes from the kids' department do fit me well, but they're the exception, not the rule. I mostly stick to accessories, tights/socks and shoes there.

That's cool that we're the same size! I've never tried shoes from any US brands so I wasn't sure whether UK 5 was a 7, 7.5 or 8... when I next travel to the USA I plan on trying on some shoes to find out, haha.
Lady Cardigan
said on
25 February 2011 at 20:27
I'm also not a bag person, partly because I prefer small ones that are easy to carry and it's hard find a good one, but still I have four bags -- three are black! So uncreative of me. I need a much bigger bag now, but I've been procrastinating about buying one because it's just not that interesting to me. But I really like that second bag you bought -- it's cute, and a great price!