ARCHIVES
ASOS Tailored Pencil Dress
Saturday, 26 March 2011 / 22:31
(Also reviewed
here
by Petite Asian Girl,
here
by Elle of Fast Food & Fast Fashion and
here
at the Alterations Needed forum.)
I thought this might turn out to be the perfect classic LBD, and whilst I love the style, I hadn't anticipated that moving around in a narrow pencil skirt might be a little awkward.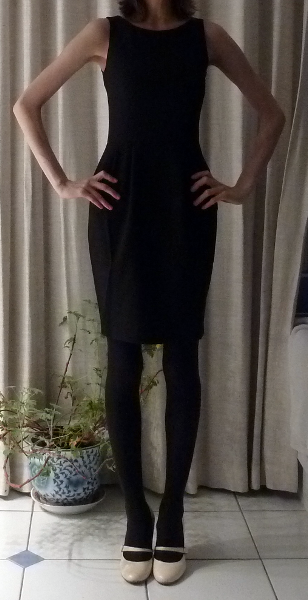 (Full-length photos, finally!) As you can see, it's full at the hips, but tapers down towards the hem. The back slit is pretty short, and I had to take much smaller steps than usual because the hem was so narrow. Even when it comes to formal/occasionwear I prefer to be able to move comfortably in my clothes, so the dress has been returned. My hunt for a suitable LBD continues.
As always, my instinct when wearing something sleeveless and/or form-fitting is to immediately throw on a baggy sweater. I'm working on it. Anyway, I haven't forgotten my pledge to post an OOTD by the end of the month; my Cath Kidston UTs arrived a couple of days ago (review forthcoming, they are
gorgeous
) and I'm thinking about how I could coordinate them.
Aside: my hair is practically touching my shoulders! It was pixie-cut-length for most of the past six years, so I can't get over how long it feels now. I'm hoping to get it to shoulder length by the summer.
Labels: asos