ARCHIVES
Uniqlo + Cath Kidston = awesome
Monday, 21 March 2011 / 14:43
I've been a fan of Uniqlo since my first online order a year ago, so I was pretty excited to hear they were
collaborating with designer Cath Kidston on a range of t-shirts
; nostalgic floral prints are right up my street, and I love the handful of Cath Kidston items I own. Uniqlo's preview images were tantalising, but I wasn't expecting the collection to be as big as it is - there are 53 pieces in all, spanning several sleeve and neckline variations and a multitude of prints. I had a hard time narrowing down my choices, but settled on the two I loved most: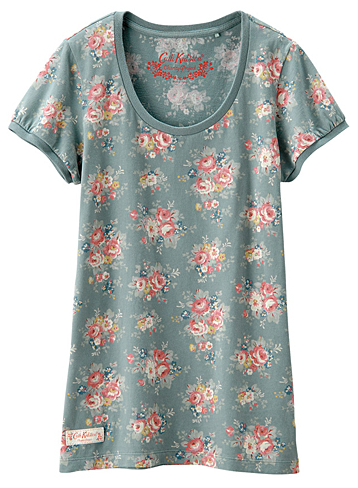 Aside from those (and a couple of basic tees), I couldn't resist snagging the
Flare Skirt
in navy after it was reduced from £24.99 to £14.99, and this brings me to the subject of one of my favourite things about Uniqlo: they provide exhaustively detailed measurements for each product in each size. Instead of just looking at their general size chart, I checked out the skirt's waist and length measurements, grabbed a similar skirt from my wardrobe to measure
its
waist and length, and chose a size accordingly. I would be so happy if other retailers started to follow Uniqlo's lead here; detailed sizing information is useful to everyone, but for customers with a particular fit or sizing concern it can be absolutely key.
On a related note, I was intrigued to see
one of the jeans styles
offered in a size 23 (although it's not listed on the measurements page). I can't currently afford to drop £30 on skinny jeans when I already have at least one pair, but I'm curious about how the size 23 might fit me, since Uniqlo's skinny straight jeans in a 24 are a bit roomy in the waist. I might email customer service and ask if they're planning to introduce a 23 in any more styles.
Anyway, today feels like the first properly sunny day in ages and it's also a searing 14 degrees C (57 F) outside, so I have been seized by the urge to get some sun.
Labels: cath kidston, uniqlo