ARCHIVES
More Sunday Miscellany and Links
Sunday, 6 February 2011 / 15:28
I went charity-shop browsing yesterday, and found this adorable girl's dress: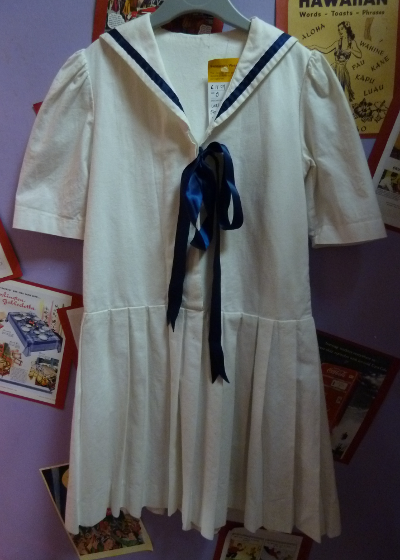 There was no label of any kind, so it might have been handmade. Unfortunately it was too small for me, but it's inspired me to dream up similar dresses for summer.
This was a quiet week for me, and I didn't get as much done as I'd hoped, but after a few months of stress and health problems I think I needed to recharge mentally and physically. I made myself stay indoors on Thursday because I'd been coming back exhausted every time I went for a walk. I did make some progress on my
wardrobe overhaul
, figured out my clothing budget for the next couple of months, and crossed off another wishlist item: warm, thick tights for cold-weather wear. I got
these ones
from John Lewis' girls' range in charcoal grey, at £7.75 for a pack of two. They're totally opaque and very soft, so I'm pleased.
I planned to hit H&M today, but as it's raining and I don't feel like facing the Sunday afternoon crowds, I'm staying in. I've been reading
Dynamic Anatomy
(NB:
affiliate link
) by Burne Hogarth and copying some of the amazing illustrations - whilst that's no substitute for drawing from life, it's a good adjunct, I think. (Also, I'm a nerd and I just like learning what all the muscles are called, etc.)
Some links I've collected over the past week:
Beautiful indoor planters at Fern & Fawn
. I used to keep mosses and little ferns in a couple of small containers, and I'm inspired to do something similar again.
Questions on feminism and fur, by L. at Academichic
- another considered and thought-provoking post. The comments are well worth reading as well, as readers share varied and interesting perspectives.
Four ways to refresh your existing wardrobe
, at the Daily Telegraph. I'm never sure what to think of trend-focused fashion media (who gets to decide what's "in", and why should I care?) but I can't deny being pleased to see pink, tweed and Uniqlo on the list. I think I'll pass on "the colours we are supposed to be wanting now", though - "... orange, cobalt, lime, emerald and fuchsia".
Style, authorship and stereotypes
, by Andrea of A Cat of Impossible Colour, guest-posting at Already Pretty; a powerful and elegant rebuttal of the idea that women with an interest in clothes must be "shallow, vain, a bit dim or unpleasantly female in some way." In a similar vein,
Nerd Girls Rule
at Eat the Damn Cake. I just love this one.
Back in May last year, Sally of Already Pretty asked,
what are your figure flattery priorities?
I read this, thought "wait, I get to decide
for myself
what flatters me?", and it felt kind of liberating, honestly.
DIY Embellished Tees at Academichic
- great tips and inspiration. E. just posted
a great guide to refashioning clothes
, too. I'll be referring to both these links as my stack of clothes to alter/embellish grows.
Labels: charity shops, links