ARCHIVES
31 x 31: Results
Sunday, 31 July 2011 / 17:30
Didn't I say
I was going to wear a different outfit every day in July, using only 31 pieces
? In that respect I've totally failed, but when I think about what I was trying to
achieve
- better organisation, more varied outfits, more confidence - I feel like I've made progress anyway.
After sticking to my self-imposed rules for about a week, I got
bored
and started wanting
more variety
, which is amazing given that I'm used to dressing in a very boring way. I actually dragged out some clothes I'd never worn and figured out ways to style them. I'm keen to try new colours and styles. I still had a few "I can't be bothered to think about clothes" days, but I'm straying outside my old comfort zone, and I'm glad for it.
Why does dressing differently matter to me? This is from July 2010: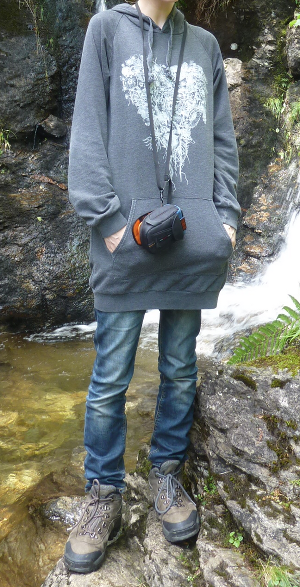 On that particular day I was out hiking, but that is how I dressed
every day
. At one point, I couldn't look at myself in the mirror unless I was dressed like that. I had a few other baggy sweatshirts and jumpers in rotation, but I preferred that one because it hides everything from shoulder to mid-thigh. There were days when I felt too exposed with just that hoodie on (I really wish I was joking) so I would wear it under a half-zip hiking fleece from the men's department. That was my comfort zone.
Note also that this was taken in July, and Scottish weather notwithstanding, it was too warm for a sweatshirt that day and I was uncomfortable. I wore it anyway because I was too self-conscious going without. I can remember a few days last summer when the warm, sunny weather prompted me to
stay inside
, because going out in short sleeves just wasn't an option.
I don't have a recent outfit photo for comparison - I am still camera-shy enough to make that difficult - but as of right now, I can wear skinny jeans and slim-fitting tops all day without feeling overwhelmingly self-conscious. In turn, my life is easier because I'm not constantly distracted by those nervous, self-conscious feelings.
That
is progress.
Anyway, I'm spending next week at a summer-school portfolio preparation course, and for once I'm more excited than nervous. It should be a busy week so I won't be working on any new posts, but I have several mostly-finished drafts to publish.
Labels: 31 x 31, challenge, personal