ARCHIVES
Budgeting/Spending Review: First Quarter 2011
Thursday, 31 March 2011 / 15:43
Select purchases from this quarter: H&M hat, Uniqlo skirt and tee, American Eagle sweater, Miss Selfridge shoes, Forever 21 bows. If you use Polyvore, saving items you already own (or are considering) can be a fun way of figuring out how you might wear them.
Here's the follow-up on
my budgeting post
. This was the first time I've really got serious about budgeting and recording my purchases, and whilst I haven't done things 100% perfectly, it was a learning experience and I aim to improve. :)
Read more »
Labels: budgeting, saving and spending
ASOS Tailored Pencil Dress
Saturday, 26 March 2011 / 22:31
(Also reviewed
here
by Petite Asian Girl,
here
by Elle of Fast Food & Fast Fashion and
here
at the Alterations Needed forum.)
I thought this might turn out to be the perfect classic LBD, and whilst I love the style, I hadn't anticipated that moving around in a narrow pencil skirt might be a little awkward.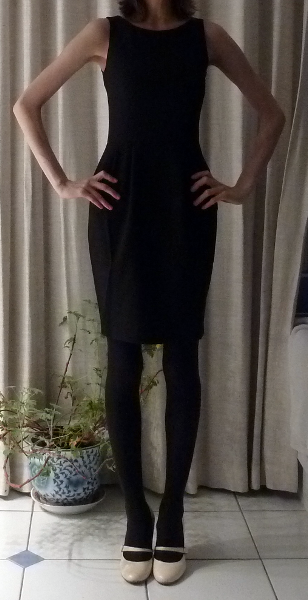 (Full-length photos, finally!) As you can see, it's full at the hips, but tapers down towards the hem. The back slit is pretty short, and I had to take much smaller steps than usual because the hem was so narrow. Even when it comes to formal/occasionwear I prefer to be able to move comfortably in my clothes, so the dress has been returned. My hunt for a suitable LBD continues.
As always, my instinct when wearing something sleeveless and/or form-fitting is to immediately throw on a baggy sweater. I'm working on it. Anyway, I haven't forgotten my pledge to post an OOTD by the end of the month; my Cath Kidston UTs arrived a couple of days ago (review forthcoming, they are
gorgeous
) and I'm thinking about how I could coordinate them.
Aside: my hair is practically touching my shoulders! It was pixie-cut-length for most of the past six years, so I can't get over how long it feels now. I'm hoping to get it to shoulder length by the summer.
Labels: asos
Uniqlo + Cath Kidston = awesome
Monday, 21 March 2011 / 14:43
I've been a fan of Uniqlo since my first online order a year ago, so I was pretty excited to hear they were
collaborating with designer Cath Kidston on a range of t-shirts
; nostalgic floral prints are right up my street, and I love the handful of Cath Kidston items I own. Uniqlo's preview images were tantalising, but I wasn't expecting the collection to be as big as it is - there are 53 pieces in all, spanning several sleeve and neckline variations and a multitude of prints. I had a hard time narrowing down my choices, but settled on the two I loved most: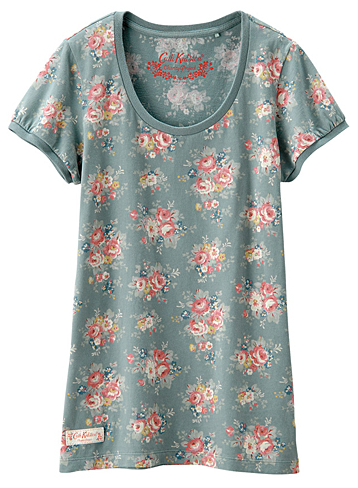 Aside from those (and a couple of basic tees), I couldn't resist snagging the
Flare Skirt
in navy after it was reduced from £24.99 to £14.99, and this brings me to the subject of one of my favourite things about Uniqlo: they provide exhaustively detailed measurements for each product in each size. Instead of just looking at their general size chart, I checked out the skirt's waist and length measurements, grabbed a similar skirt from my wardrobe to measure
its
waist and length, and chose a size accordingly. I would be so happy if other retailers started to follow Uniqlo's lead here; detailed sizing information is useful to everyone, but for customers with a particular fit or sizing concern it can be absolutely key.
On a related note, I was intrigued to see
one of the jeans styles
offered in a size 23 (although it's not listed on the measurements page). I can't currently afford to drop £30 on skinny jeans when I already have at least one pair, but I'm curious about how the size 23 might fit me, since Uniqlo's skinny straight jeans in a 24 are a bit roomy in the waist. I might email customer service and ask if they're planning to introduce a 23 in any more styles.
Anyway, today feels like the first properly sunny day in ages and it's also a searing 14 degrees C (57 F) outside, so I have been seized by the urge to get some sun.
Labels: cath kidston, uniqlo
On Budgeting and Investment Purchases
Friday, 18 March 2011 / 18:14
I've been getting a bit frustrated with myself over my failure to post OOTDs. Honestly, the technical hurdles (like my lack of a tripod or a decent mirror) could easily be worked around; I'm just very, very camera-shy and insecure when it comes to body image. Some might ask "what were you thinking, starting a personal style blog when you can't even take photographs of yourself?". The answer is, I hoped style blogging would force me to confront and deal with my shyness and body image issues. I still stand by that theory, and whilst I haven't made as much progress as I'd like, I'm not giving up yet.
Anyway, writing more posts that don't require me to photograph myself might be a bit avoidant, but I'm not just posting for the sake of posting. As I strive to dress better and build up my wardrobe, figuring out a workable clothing budget/spending strategy is crucial. Believe it or not, I never budgeted or recorded what I was spending on clothes until January 2011. I never spent outside my means or got into financial trouble, but it was still far from ideal, so at the start of this year I made some simple changes.
Read more »
Labels: budgeting, saving and spending
Girl Seeks Hat
Thursday, 10 March 2011 / 12:31
I can't believe it took me this long to post a photo of Audrey Hepburn.
For some reason, I'm looking forward to summer more than usual this year... maybe out of a misplaced sense that I'll get to travel somewhere warm? I don't mean to misrepresent Scotland as cold and dreary all year round, but in summer 2009 I visited the southern USA and practically basked in the heat and humidity. Seriously, going outside in shorts and a t-shirt and
not shivering
was a novel experience.
Read more »
Labels: accessories, audrey hepburn, seasonal style
A New Everyday Bag
Friday, 4 March 2011 / 13:55
My portfolio assessment was yesterday, though I won't know the verdict for a couple of weeks. I'm glad it's out of the way now because I've completely run out of energy, haha.
Read more »
Labels: bags, new look, reviews, topshop